Our compassionate veterinary care team!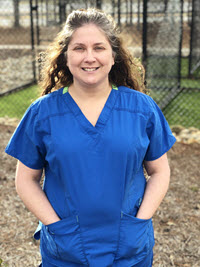 Erica Merrill
Customer Care Representative/Technical Assistant
Erica especially enjoys working with her older clients and their pets. She appreciates the clients' wisdom and insights. Erica also loves to see the special connection these clients have with their beloved pets.
Growing up in Clinton, South Carolina, Erica was primarily raised by her grandmother, whom she remembers for her delicious Southern cooking. Erica credits her hard-working grandmother for passing on a good work ethic. Once Erica was old enough to work, she took a job to help support her family. When her employer's business closed, leaving her seeking work, a friend introduced her to Dr. and Mrs. Verdin. In 2006, she joined the team as a veterinary receptionist, but also received hands-on technical training. Erica very much appreciates her cross training, as she's equally comfortable working in the front office or in the exam rooms. Most importantly, Erica loves building relationships with clients and their pets. She shares life with her husband, Victor, and their daughter, Viktoria. Erica loves to read, and she also receives great satisfaction from teaching a Sunday School class at her church. Their family has two dogs: Cooper and Uncle Ruckus. They are a handful but a lot of fun!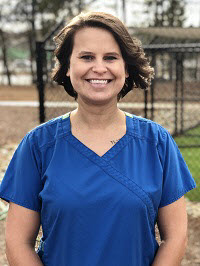 Kaitlin Stoddard
Customer Care Representative / Client Communications
Kaitlin's passion for people shines through in her daily interactions with our clients. She is mostly behind the scenes as our marketing coordinator and client advocate, thriving on helping clients to meet their pets' needs and finding ways for our practice to reach out to the community. She has taken a hands-on approach to our online presence, website, and Facebook page. Kaitlin enjoys her role as an enthusiastic client ambassador!
Growing up in Simpsonville, South Carolina, Kaitlin was actively involved in several school-based church and Christian organizations, and she also competed in track and cross-country in high school. When Kaitlin joined the veterinary practice, she developed a passion for educating clients about their pets' health. Kaitlin considers her coworkers like family, and each day is filled with friendly camaraderie! Kaitlin also feels that her work is a ministry, and she has been called to Verdin Veterinary Services to bring joy to others. She and the second love of her life (her Savior, Jesus Christ being the first), Chris, have been married since 2010, and they have three children. She is now working primarily from home, keeping in touch with client needs and organizing special events. She focuses on personal relationships with clients through daily email communication, personal thank you notes, sympathy notes, and thinking of you cards, as well as coordinating our clinic's online store.
She's an active member of her church praise band, passionate about missions, and loves to spend time with her family. Kaitlin also takes pleasure in creating crafts and enjoys the great outdoors. While Kaitlin and her husband don't currently have any pets, they formerly owned a lovely female pit bull. The couple hopes to share their home with another "bully breed" dog in the future.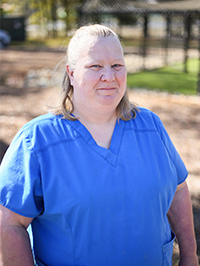 Leah Lanier
Pet Groomer
Leah's entire life has revolved around animals. Growing up in Valdosta, Georgia with her brother and sister, Leah brought home her first stray dog when she was five years old. Every Easter, Leah received chicks, rabbits, and guinea pigs from her grandmother. Leah has always loved to be outdoors, as her father's parents had a farm near Savannah, Georgia. In fact, Leah's first job was mucking stalls for her horse trainer. Leah's familiarity with different types of animals gave her a wonderful foundation for her pet grooming career!
Leah began her pet grooming career at a large corporate grooming salon in Greenville, South Carolina. After completing grooming school in Union, South Carolina, Leah worked at the corporate salon for several more years. Seeking better hours, she came to Verdin Veterinary Services, where she has been grooming ever since. With 20 years total grooming experience, Leah can confidently groom dogs of different breeds and coat types. On any given day, Leah might give a Labrador retriever a bath, clip and scissor a poodle to the breed standard, and give a rambunctious puppy his first-ever haircut. Leah might even groom a client's cat on occasion. Leah enjoys the variety of animals she sees every day, and she values her coworkers' expertise as well.Leah's family includes two children, a daughter and a son. She also has quite a few canine children. Leah counts greyhounds, whippets, Rhodesian ridgebacks, and Borzois among her canine housemates.Finally, Leah's expertise on the grooming table has helped her to achieve impressive results in the show ring. Over the years, several of her dogs have become finished champions. Leah's dogs have also proven to be canine athletes, achieving great results on the often-challenging coursing field.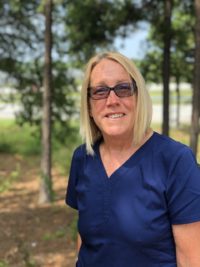 Nancy Erny
Pet Groomer
Nancy began working at Integrity in November 2019 after a vet visit with Dr. Moore with her 3 Wirehair Dachshunds. It's funny how things happen. She had groomed dogs for many years in New Jersey, then went into the hospitality field, retiring early from that corporate career to help look after her aging parents in NJ. All along Nancy always kept her hand in grooming. Doing her own dogs, her sister in law's Scottish Terrier, her daughter's Hunt Terrier and various friends' dogs. During the vet appointment, Dr. Moore commented on how well groomed her dogs were and asked where she got them groomed. The rest is history!
Her love of grooming began early in life. Nancy spent her childhood and teens showing ponies and horses that were always braided and groomed perfectly. Then she met a lady at a local horse show that owned a grooming salon and was impressed with what she did with the dogs. Nancy asked so many questions and showed such a great interest that she asked Nancy to work for her by washing and drying dogs for her. She took Nancy under her wing and taught her the ropes. From there Nancy began showing and breeding Doberman Pinschers in obedience and confirmation; she actually bred and owned a Top 20 Doberman Pinscher!
Using her God-given talent to bring out the very best in the dogs she grooms, Nancy really loves the satisfaction she receives from an owner when they come to pick up a dog from a grooming appointment and are so very happy at how the dog looks. Often an owner requests a follow up appointment, and then she knows she can make their dog look even better next time!
Nancy is a true "Jersey Girl". She likes to think that Bruce Springsteen wrote a song about her! She even has a vanity license plate that reads "JRZYGRL"! Needless to say, she relished her upbringing in New Jersey, where she would go to "the shore" and they know "how to do a jug handle." She showed ponies and horses in equitation and hunters, and then moved into showing Dobermans and fortunately brought over her education to read a pedigree and know good confirmation. Nancy's father was her biggest influence. Her current hobbies include spending time at the barn with her 13.2 hand Welsh Crossbred Pony. Sadly, Nancy lost her Quarter Horse in November to colic; she was a well-versed horse in Fox Hunting, Hunter Pacing, and Trail Riding (she even did a "Make A Wish" for a young girl). Nancy's new goal is to spend time bringing her new pony to that level.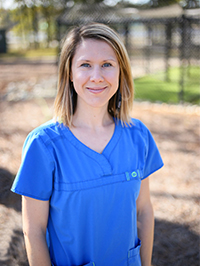 Rebekah Verdin
Client Care Liaison
Rebekah was born in Northern Ireland, and moved to a town near Glasgow, Scotland when she was four. Next, Rebekah's family moved to Allentown, Pennsylvania, as her Presbyterian minister father wanted to establish a church there. After Rebekah graduated from high school, she moved to Greenville for further education. Meeting Andrew while he was in vet school changed the course of her life for sure! Transitioning from her teaching career, Rebekah joined the practice in 2009 and was trained first as a veterinary receptionist, after which she moved into Eloise Verdin's former office manager role.
Rebekah most enjoys interacting with the clients and their pets, and considers the hospital's staff more like family than employees. Each week, she enjoys engaging in tasks that help keep the practice running smoothly: office management, inventory, helping to host special events, and client communication.
She has always enjoyed running and outdoor activities. In her limited spare time, she also enjoys reading, trying new recipes, and scrapbooking so she can remember the milestones in her two little girls' lives (Baylis and Harris). Naturally, Rebekah and Andrew share their home with furry children as well. They shower love on their four sweet rescue cats, Teacake, Sunshine, Spot, and Callie Lou, and their mini Bernedoodle, Bea!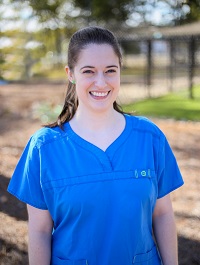 Nicole Ince
Technical Assistant/Customer Care Representative
Nicole was surrounded by animals constantly while growing up here in Simpsonville. She had a particular fascination with a television show called Emergency Vets, and the program inspired her to pursue veterinary medicine herself. Nicole's passion hasn't wavered—now, she's a member of the Integrity team and plans on continuing her studies in the world of animal care!
Nicole earned her Bachelor's degree in biology from Bob Jones University and graduated in the spring of 2013. Currently, she's taking online classes through Penn Foster College to obtain her Veterinary Technician certification. Once she becomes licensed, Nicole plans on continuing toward her ultimate goal: attending veterinary school to become a practicing veterinarian! Here at the hospital, Nicole enjoys the constantly changing nature of her work; no two days are ever quite the same. She has a special passion for surgical work, and even hopes to specialize in surgery during veterinary school.
When she has time outside of work, Nicole enjoys reading, working on puzzles, cross-stitching, and spending time with her own pets at home. She has a Cockapoo named Copper and a playful Malti-poo who goes by Trevor. Nicole and her family also keep a large freshwater fish tank in their home and are currently raising three goats named Andrew, Annie, and Carmel.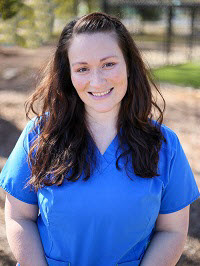 Danielle Walsh
Technical Assistant/Customer Care Representative
Danielle began working for Integrity Animal Health Group in March 2018. She made the decision to switch from Equine back to small animal when she found out she was expecting her first child.
Danielle has always loved animals but, from a young age she felt more connected with animals than people. It started with her love for horses; she loves being an advocate for animals that don't have a voice. One of the first horse farms where she rode as a young girl had a very temperamental horse named Tiny Tim. Most of the children were scared of him because he would bite and sometimes kick. But for some reason Danielle was not afraid and developed a relationship with him. Danielle's mother saw at that moment that she would have a special relationship with animals her whole life.
Growing up on Long Island, NY in a single parent home, Danielle feels privileged to have a terrific role model and best friend of a mother. Her mother's influences were strong and instilled a strong work ethic, good morals and perseverance throughout life.
Danielle started her educational journey at Becker College, MS, for a Veterinary Technician degree. After working with both equine and small animals, she took a break to teach horse-back riding and become a horse trainer. She returned to school at North Carolina State University in 2009 to finish her Bachelors in Science/Animal Science and applied to vet school. After graduation, she unfortunately did not get into her top choices the first time, so she decided to pursue her love/family life instead of trying again.
One of her particular passions within veterinary medicine is sports medicine and lameness. She finds it challenging and rewarding when coming up with a treatment plan that helps relieve the animal of pain and discomfort.
Danielle's dog Zach is a Collie/Shepherd mix they adopted in a shelter in Charlotte, NC. He was 7 months old and had some emotional baggage. With the help of a great trainer, he is a happy, tail wagging, cat chasing, paw patrolling the backyard kind of pup. She and her husband also have a 3 year old cat Theo who thinks he is a baby! In the backyard you will find a variety of chickens that they raise and love very much. Her horse Halla lives at a barn down the road and has been with Danielle for 17 years.
Her all time favorite hobby has always been her horses: riding, training, and just being around them. However, her newest hobby is being a chicken momma; she and her husband started with 3 and now have over 20!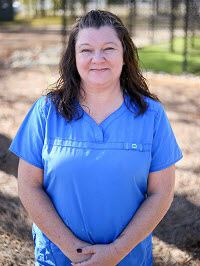 Lynne Burnett
Assistant
Lynne has always harbored a deep passion for animal care, and wishes she could adopt every single pet in need of a home. She's wanted to work with animals for almost 12 years, and is absolutely thrilled that her dreams in the veterinary field are finally coming true! She serves as a Veterinary Assistant at Integrity.
A South Carolina native, Lynne was referred to the clinic by her neighbor, who also works here. Lynne began as a Veterinary Assistant in June of 2014. She's particularly fond of drawing up medications for pets, holding animals while they're getting vaccines, and lending a helping hand to anyone in the office. At home, Lynne and her family have one dog, Ace, and three sweet kitties: Leo, Tinkerbell, and Baby. They're all very different, and each holds a special place in Lynne's heart.Outside of her work, family, and pets, Lynne loves crafting and recently learned how to transfer a photograph onto a canvas. She also likes grilling, camping, swimming, and roasting marshmallows around a toasty fire with her two children.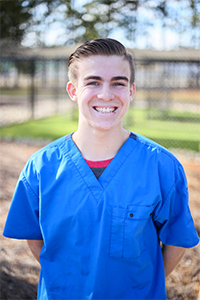 Zane Moore
Assistant
Zane's position at Integrity Animal Health is that of a Kennel Technician. He was introduced to the practice through his father, Dr. Daniel Moore.
Zane loves working with and being around animals. He credits his early love of veterinary medicine to a time when he was watching one of the veterinarians do surgery. Right in that moment, he knew he wanted to be able to also help animals.
His experiences in a veterinary clinic began when Zane would help his dad from time to time by letting the dogs out of the kennels. He became a part of a previous clinic his dad worked at by helping take care of the dogs. Zane finally became an employee at Verdin Veterinary Services (now Integrity) as a kennel technician.
One of his greatest areas of interest is helping with ultrasounds because he thinks the technology is incredible! He enjoys gently holding the dogs during the procedure because it strengthens his bond with them.
Zane grew up in Waycross, Georgia. He lives with his parents, one older brother, and two younger sisters. Zane's dog, Aspen, will eat just about anything, and their other family pet, a small dog named Cinder, can escape from just about anywhere!
His hobbies include playing soccer and engaging in fun outdoor activities. In fact, during one of his soccer games, he actually scored a goal with his derriẽre!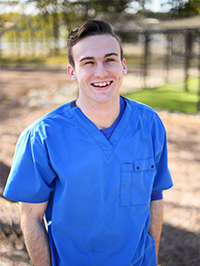 Danyon Moore
Technical Assistant
Danyon began working at Integrity in 2014 as a kennel technician. After doing that job for about 4 years, he moved into his current role as a technician assistant. His dad, Dr. Daniel Moore, is a veterinarian, so Danyon has grown up being around veterinary medicine.
He started shadowing his dad when he was 14, and then began working in the kennels before moving into his current role (technician assistant). One inspirational event that stands out in Danyon's mind within the field of veterinary medicine was a medical emergency at his dad's previous veterinary practice in Georgia. Around 1 o'clock in the morning, he was in awe watching his dad perform an emergency pyometra. Seeing an animal survive a life-threatening situation was amazing and inspired Danyon to do something meaningful for others and their furry friends!
Danyon enjoys spending time with pets and their owners. He has made more relationships than he could ever have imagined, and he loves having the ability to help both the owners and pets.
After spending most of his early years in Waycross, GA, Danyon moved to Athens, GA with his family while his father was in veterinary school, before finally moving here to the Upstate in late 2012.
Danyon is an avid sports fan and loves anything to do with Georgia (GO DAWGS). He has played football and baseball, but soccer is his primary passion.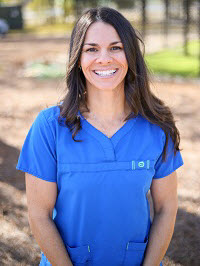 Heather Moore
Client Care Liaison
Heather is from Waycross, Georgia where she spent most of her early years surrounded by a plethora of animals. She grew up next door to her grandparent's ranch, which harbored hundreds of ostriches, emus, rheas and a couple of llamas.
Heather hoped for a career as a Veterinarian, yet God had a different plan in mind. Heather met her husband, Daniel Moore, in 1994 and they now have four children: Danyon, Zane, Grace, and Selah.
Heather has always been a stay-at-home mom, with the past eight years spent home-schooling her children until she joined the Integrity Animal Health Team in July 2018. Heather has enjoyed getting to know clients and their furry family members, learning more about the day to day intricacies that are inherent to a busy veterinary practice, and working alongside her husband and two sons.
CrossFit and spending time at the beach are two of Heather's favorite pastimes.
Regina Harrison
Customer Care Representative
Regina began working for Integrity in July 2019 because of the recommendation of a close friend who was also an employee of IAHG at the time. But her interest in veterinary medicine goes back to her childhood, where her love of animals grew, along with her desire to help them.
However, when she was in middle school, Regina shadowed in an animal hospital for a day, and she wasn't sure by the end of that day if she had the stomach to handle medical work! It wasn't until her second year of college that God placed upon her heart a special love for animal medicine.
A native of Greenville, Regina has spent her entire life in this area, growing up with her dad, step-mom, two brothers, and one sister. Her early career interest was in the area of fashion, and she has always enjoyed spending time with her family. She attributes her greatest positive influences in life to both of her parents, who taught her to demonstrate a strong work ethic and to love those who are less fortunate.
To this day, Regina still enjoys family time – hiking, biking, and Taekwondo. She also volunteers at her church helping with special friends. She views her greatest achievement as her role of mom to her son Connor.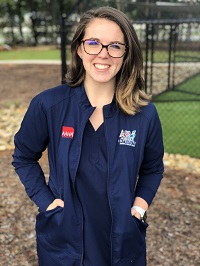 Madison Poe
Customer Care Representative
Madison became a member of the Integrity team when she heard about the position from a former employer who knew several of the doctors. She loves people, and growing up with pets in her own household, she knew how much they are like family. Personally, she loves to build relationships and that is what she has the opportunity to do here daily. She enjoys hearing their stories of how they have gotten to be where they are now. Ultimately, Madison wanted to work in a place that valued people and what is important to them.
After her grandfather died, Madison's grandmother was not doing too well. About a year after his death, Madison bought her a little Jack Russell/Pomeranian mix named Duke. He brought her grandmother so much joy during a difficult time and ultimately helped to turn her health around!
Growing up in Wilmington, North Carolina, Madison has a family of five: both parents and two brothers, one older and one younger. She currently has a chocolate lab named Musket. She grew up a beach child, so any chance she gets, she is back in the ocean. Some of her biggest life influences are the friends she has made over the years. They have taught her about intentionality in relationships, which is something she will carry with her for years to come as a personal mission.
Madison attended Bob Jones University in Greenville. She loves reading but could also quote The Office and Friends in her sleep! She is a lover of Jesus and of country music.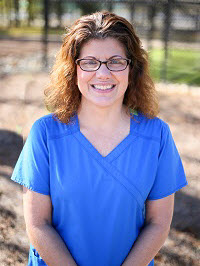 Laura White
Customer Care Representative/Technical Assistant
Laura had been working at another practice for close to 10 years and honestly thought that she would be working there until it was time to retire. However, the Lord started whispering to her heart that He had something else planned for her. Not knowing where to even begin looking, she sat down one Saturday afternoon and wrote up her resume and sent it out to three local practices. To her surprise, all three contacted her for an interview. She had a talk with God and let Him know that she needed Him to make it crystal clear where He wanted her to be. After meeting Rebekah, Dr. Verdin, and Dr. Moore, Laura knew the answer was Integrity Animal Health Group!
The obvious answer for why she became a veterinary professional is because of her love for animals, right? Laura told her parents when she was a child that she wanted to be a veterinarian. However, she did not actively pursue that dream and ended up in the Restaurant Management Industry for most of her adult life. Flash forward to January 2008, when she accepted Jesus as her Savior and realized that the dream she had as a child was placed in her heart by her Creator and that was her purpose in life.
The trajectory of Laura's story may have been altered because as a young child seeing a family friend lose their beloved pet, she came to the conclusion that she could never do that (put a pet to sleep) and so she let go of her dream to be a veterinarian. However, when we get off course, God has a way to get us back on track! He used two little wiener dogs named Oscar and Lola to get her attention again. After the loss of her own pet, Laura adopted Oscar and Lola from a family, and over time developed a relationship with this family. In turn, they invited her to church and after hearing the message that she mattered to God, she wanted to learn more. She continued going to church and 3 weeks later she accepted Jesus into her life. The more she learned about His love and purpose for her, the more she realized that restaurant management wasn't His call on her life. She took a huge leap of faith and walked away from the restaurant industry to pursue a career in the veterinary field. One thing she learned early on in her faith journey is that if you are in God's will then He will provide all that you need!
Laura is passionate about her profession because she enjoys getting to know the pets and their different personalities. She also likes getting to know the clients and building a relationship with them. She likes being able to educate clients to better assist them in caring for their pets. She really loves being part of the team that helps sick pets get better.
As far as her personal origins, Laura is the middle child of three born to a Military Father and mother. As a child, her family moved several times and that translated into her early adult life until she reached South Carolina where she has been since 1994. She spent time in Anderson and Greenwood before landing in Greenville in 2007.
When she's not working, Laura enjoys reading or watching a good movie. She also enjoys the fellowship she shares with her small group from church. She likes being able to help others. The Lord has blessed her more than she could have ever imagined, and she just wants to be a blessing to others!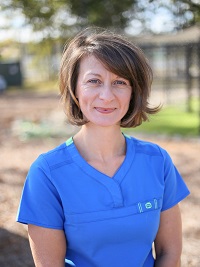 Tonya Ashley
Licensed Veterinary Technician
Tonya graduated in 1998 with her veterinary technical degree from Tri-County Technical College in Pendleton, SC. After working for 15 years at a mixed animal practice, she decided to venture out and explore the emergency side of the veterinary field. Then, in October 2018, she joined our Integrity Team!
As a young child, she was an animal lover and decided to pursue this passion by joining the veterinary field. Growing up with a mother who bred Border collies, Tonya remembers a specific time when she had to help a whelping puppy, and this early experience further encouraged her to continue the path of helping animals.
Tonya loves the diversity of her occupation because of the unexpected challenges that may arise even in a day. She also really enjoys the client/patient relationships that develop over the years of caring for their fur babies!
Raised in a small town near Anderson, SC, Tonya spent her childhood with her mother and older brother. She was consistently surrounded by animals.
Tonya, her husband, and their two children live on a farm with two dogs, one cat, a bearded dragon and a variety of chickens! They enjoy spending time outdoors, hiking, camping and kayaking during free time. One of her proudest achievements includes LVT of the year in 2010 for South Carolina.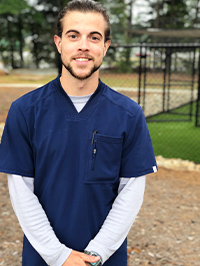 Gregory Ramsey
Licensed Veterinary Technician
Greg had been working night shift at the emergency clinic for the last 5 years and was looking for a change of pace. A few friends he had previously worked with suggested to come try out day practice, so he joined the Integrity team in May 2019.
Greg's journey in veterinary medicine began when he started working at a day practice in high school taking care of the boarding animals. Then he got a job at the Greenville Humane Society in adoptions. Later on, he started working in the spay and neuter clinic. It was at that point when he decided to go to school to get his veterinary technician license.
In his second year working at the emergency clinic, he rescued a little pitbull. Someone found her as a stray walking down the road. When she was brought to the clinic she was in very bad shape. Mange was covering 90% of her body, and she could barely open her eyes. As soon as he walked up to the exam table, her tail immediately started wagging and never stopped. Even though she was in such bad shape, she was the sweetest little dog. He took her home that night and with the help of the doctors at the clinic was able to get her healthy in no time. Now her name is Ava and she's the sweetest dog. She sleeps under the covers every night and goes wherever he goes!
Greg loves working in a busy, fast paced clinic where he feels like he is always learning and continuing to grow as a tech. One thing he has really enjoyed about working in a day practice is being able to spend time with the clients and building an ongoing relationship with them.
A Greenville native, Greg has lived in this area his whole life. He has two wonderful parents and an older sister who lives in Austin, Texas. Greg's dad introduced him to the outdoors at a very early age, and they spent a lot of time growing up fishing and camping. His dad influenced him a lot growing up, and he still looks up to him today. He showed Greg by example what it looks like to work hard and make time for your family and people you care about.
In his time off, Greg spends as much time as possible outside: he loves to fly fish and rock climb. He has had the good fortune of being able to travel around the country climbing and fishing. Other interests include cooking and spending time with his girlfriend and friends.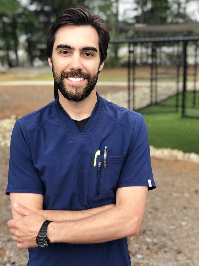 Chase Gratz
Licensed Veterinary Technician
Prior to coming to Integrity, Chase was employed at the Animal Emergency Clinic in Greenville for almost ten years. Chase had been working nights during the majority of his time with AEC and was looking for a way to remain in the veterinary medical field but transition to a healthier schedule. He personally knew a few of the technicians that came to work at Integrity from his time at the emergency clinic, and they were all technicians he enjoyed working with and respected a lot. After speaking with a few of the doctors and coming to tour the clinic, he decided that Integrity was the right move at this point in his life.
Chase has loved animals since he was young but never actually intended on becoming involved in veterinary medicine. During his sophomore year of college, one of his roommates got him connected with the local animal shelter in Greenville and helped him get a job working in the adoption department. This job really reawakened the passion that he always had for animals. Chase enjoyed working at the shelter but was intrigued by the medicine aspect. After one year at the shelter he began searching for jobs at a veterinary practice and got hired at the Animal Emergency Clinic in Greenville. This is where he really fell in love with veterinary medicine. After one year at AEC, he decided to pursue an education in veterinary medicine and received his Associate's degree and Bachelor of Applied Science degree in veterinary technology.
Something that never fails to inspire Chase and affirm why he has chosen this as a career is getting to see a patient reunited with their family after being hospitalized. Over the course of his career, he has had the opportunity to care for numerous patients who were in critical condition. Each time a client agreed to hospitalize their critical pet, he felt that they were entrusting him with the care of not just a pet, but a member of their family. He counts it a privilege to watch so many critical cases that had very uncertain outcomes become a happy story. Knowing that we are not just treating pets but are treating family members and being able to watch a family reunited is one of the most inspiring things Chase has ever had the opportunity to witness.
Working with animals adds an extra piece to the puzzle that we encounter as medical professionals. Chase has always been intrigued by the fact that his patients don't have a voice in the traditional sense and although it can sometimes make his job more difficult, it can also make the job more rewarding when we are able to pick up on subtle clues in a patient's behavior or symptoms that can help the team arrive at a diagnosis. Chase also has a soft spot for fearful and nervous patients. He really enjoys being able to get to know each patient as an individual and find a way to ease a patient's fears. Seeing a fearful or anxious patient react to something he has done that makes them trust him, even in just a small way, is such a fulfilling feeling.
Born in Summerville, South Carolina, Chase has lived in Greenville for the past 27 years. He grew up with his brother who is four years younger. His parents, brother, and sister-in-law all live in Greenville, which is nice because they get to spend time with each other regularly. Each one of his family members have influenced Chase in their own way, for which he will always be grateful. Chase has always loved being outdoors and loved animals. He really enjoys going on walks and long hikes with his dogs in the mountains. Fly-fishing is one of his biggest passions, and has been a great outlet for getting to spend time with great people and enjoy the outdoors. He also enjoys tying his own flies to fish with! Music has been a huge part of his life, both listening to and playing various instruments. He enjoys various creative outlets, including cooking and gardening.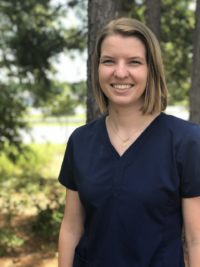 Rebecca Smith
Licensed Veterinary Technician
Having been in the vet field since March '14, Rebecca felt like she was being called to leave her previous vet clinic and join the Integrity Animal Health Group team to help expand her knowledge and to meet new people and their fur-babies.
Her interest in veterinary medicine started early: she grew up with a variety of animals and always knew she wanted to help them and their families. In fact, Rebecca was particularly inspired to choose this career path when she was in middle school and her horse became paralyzed on the left side of his body. Her family tried several different vets, but they were unable to help them. Finally, they got in contact with Virginia Tech, who performed surgery on Rebecca's horse, which restored his ability to walk. She knew at that moment that she wanted to be able to make that kind of difference in someone's life.
Rebecca most enjoys helping the doctors diagnose what is wrong with pets; she loves being able to find what is wrong with an animal and help them overcome it.
Born in Greenville, SC, Rebecca spent her early years in Indian Trail, NC. She has an older sister and a younger brother. Her family has had a variety of pets: horses, dogs, cat, birds, dish, snakes, bearded dragons and guinea pigs. As a child, she loved to be outside hanging out with friends and horseback riding.
Outside of practice life, Rebecca likes to hike with her fiancé and her dog, Milo. She is also training for a 252-mile cycling fundraiser to help find a cure for Alzheimer's.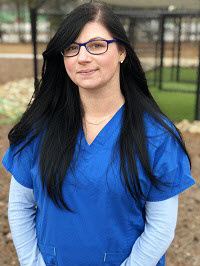 Sarah Hester
Technical Assistant/Customer Care Representative
Sarah joined the team at IAHG in January 2019. She has worked in the Veterinary Industry for about 13 years. Having always taken care of household pets growing up, she knew at a young age that she wanted to work with animals.
When Sarah was in high school, she volunteered for an animal hospital as a kennel attendant and loved being able to take care of them.
She enjoys being able to meet all the different pets that come to visit our practice and getting to know our clients. Pets all have different personalities and its fun to see how they interact with their owners!
Sarah grew up in Greenville, South Carolina with her dad and two brothers. She has enjoyed recently moving back to her hometown and being near her family again.
Among her many hobbies, Sarah loves hiking and being outdoors. She really enjoys watching movies and detective shows on a rainy day!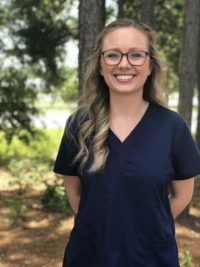 Taylor Martinez
Assistant
Taylor joined the Integrity Animal Health team in December 2019 as a result of personal interactions with the Doctor owners and staff; she knew Dr. Verdin through another animal care program she was involved with last year, and her sister MacKenzie also works part-time for Integrity.
Taylor has been around animals for as long as she can remember, and her dream has been to work with a veterinarian. She most enjoys seeing owners interacting with their pets, especially those whose dogs and cats are truly their fur babies! Her heart is especially warmed when she interacts with a service/support animal; it is inspiring to be around animals who are trained to read their owners so closely and can often predict actions to help save lives!
Growing up in Fountain Inn with her mom, sister, aunt, and grandparents, she has happy memories of fishing trips with her grandfather. Her family taught and modeled for her a true compassion for people and animals. In middle and high school, she participated heavily in sports activities including volleyball, basketball, and lacrosse.
A graduate of Southern Wesleyan University, Taylor has a Bachelor of Science degree in Exercise Science. She also got married the day she graduated! Her hobbies include being outdoors, participating in sports activities, and fellowshipping with great people in her church and community!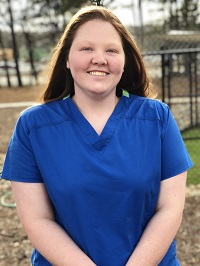 MacKenzie Duncan
Assistant
Mackenzie began her journey with our IAHG team as an intern. She started shadowing Dr. Verdin in the summer of 2018. She then continued into the school year and completed her senior project with Integrity. She has continued to work with us throughout the school year. While shadowing at the clinic, she was able to watch a dental surgery. During the surgery she observed a tooth extraction. This experience made her passion for working with animals stronger than ever.
Mackenzie most enjoys everyone she works with. She loves working at Integrity because every time she arrives for her shift, she is always met with friendly smiles and a positive energy as soon as she walks through the doors. She enjoys learning from the fun and encouraging staff!
She grew up in Fountain Inn, South Carolina with her older sister, mother, and father. Mackenzie was a crazy little redhead running around all the time. She loves to play sports: basketball, softball and swimming. As a little girl, she was interested in working with animals and always wanted to be around them.
Mackenzie loves to play sports and be involved in her church; she plays basketball for her church and softball for her school. She is active in church as a part of her church's missions committee. She loves to go out weekly to her surrounding neighborhoods with friends and share the gospel with many people. She has achieved many things within the last few years, primarily becoming a leader in her youth groups and within her church.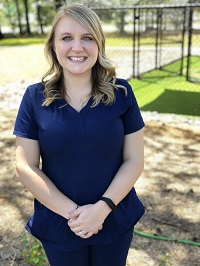 Amber Visin
Licensed Veterinary Technician
Amber is a Licensed Veterinary Technician. She graduated from Tri-County's Veterinary Technology program in 2016. She started with IAHG on April 10, 2019, coming from the Animal Emergency Clinic where she worked for over three years. After getting married, Amber was looking to change her schedule and work more normal hours.
She has always had a passion for animals and loves being able to be a voice for them. Starting her career with animals in high school, she worked in an animal shelter for two years. There, she quickly knew that she wanted to work closely with animals and to make a positive impact.
Amber was born in Ontario, Canada; most of her family still lives there. Her mother, step-father, and younger sister live in Aiken, SC, where they moved when she was 12. Her father, step-mother, two step-sisters and brother live in Ontario. She loves going to visit as often as she can. She and her husband live in Mauldin with their dogs and cats. They are big Clemson fans and love going to the football games and tailgating; they actually got engaged at a game! Amber loves cooking and is always looking for new recipes to try. She also enjoys shopping and going out to new restaurants with friends.
Amber always had animals growing up, mostly dogs and cats, but also a couple rabbits, turtles, and tortoises. Her first rescue dog came to her family when she was in high school and was working at her local shelter. He was a scruffy little black puppy and was around 3 months old. He was very scared of everything, especially people. During his 5-day stray hold, he had not eaten anything,and he stayed curled up in the farthest corner of his kennel. Amber was determined to win this little puppy over and get him to eat something. A few of the other staff members did not think he was adoptable and told her she was getting too attached. She decided to take him home and foster him in hopes of getting him more socialized so he could find a home! Long story short, after a lot of work, he was much more trusting of people and slowly grew into a normal dog. BUT he had already found his forever home with Amber's family, and they were never going to let him go anywhere else! He is now six years old and one of the best dogs she has ever met; he has the most kind gentle soul!
Amber loves being able to figure out what is wrong with an animal and helping to come up with a plan to try and fix it. She loves that you never know what you are going to find. Since our patients can't tell us anything, this fact makes our jobs that much more challenging. It is very rewarding when you figure out what the problem is, come up with a plan to fix it, and see your patient start to improve!