Our caring and compassionate veterinarian team!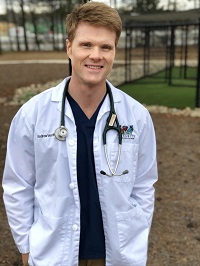 Dr. Andrew Verdin
Veterinarian
Dr. Andrew Verdin is a Simpsonville, SC native, and although he grew up surrounded by veterinary medicine, he initially pursued a career path in marketing and sales after earning a business degree from Bob Jones University. After three years, Andrew began to feel God's call for him to leave the business world and pursue a career in veterinary medicine; he enrolled at Clemson University where he earned an animal science degree. While at Clemson Andrew was an active member of the Dairy and Poultry Science Clubs as well as Block and Bridle and RUF. After graduating from Clemson, Andrew went on to earn his Doctorate of Veterinary Medicine from the University of Georgia College of Veterinary Medicine. Andrew joined Verdin Veterinary Services in May 2010 and became a practice owner in 2014. In 2018 Andrew and his business partner and fellow UGA graduate purchased land to construct a new state of the art veterinary hospital in Simpsonville. They rebranded the practice as Integrity Animal Health Group. Andrew and his wife Rebekah have been blessed with two girls: Baylis and Harris.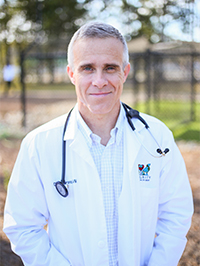 Dr. Daniel Moore
Veterinarian
Daniel's first veterinary medicine job showed him that veterinarians work on many species of animals. Working at a southeast Georgia animal clinic, Daniel often saw dogs, cats, horses, and cows on the patient appointment schedule. In addition, the veterinarians saw bears, deer, ostriches, and bobcats on occasion. While Daniel was originally hired as a kennel employee, he eventually picked up veterinary assistant, receptionist, and grooming skills as well. Looking back, Daniel realized that his diverse introduction to veterinary medicine helped to shape the career that he loves today!
Growing up in Waycross, Georgia, Daniel inherited a strong work ethic from his two industrious parents. His two sisters are also very gifted. While attending high school and college, Daniel worked many hours at the aforementioned animal clinic. However, Daniel felt that he couldn't make the commitment to the long hours and hard work required for veterinary school. Very reluctantly, Daniel left the veterinary profession to work in several businesses owned by his father.However, Daniel couldn't shake the idea of a veterinary career, and he returned to his original employer, this time with a more well-rounded set of skills. Daniel became a Registered Veterinary Technician, which opened up many more patient care doors for him. On one chaotic afternoon, the exam rooms and lobby were filled, and Daniel had a patient on the surgery table. He suddenly realized that he loved this career, as it perfectly melded his passions of animals and science. Daniel also enjoyed working with people.Fortunately, Daniel's employer, who also became his professional mentor, urged Daniel to enroll in veterinary school. After receiving his Bachelor of Science Degree in Biology from Valdosta State University, Daniel earned his Doctorate of Veterinary Medicine from the University of Georgia. During veterinary school, Daniel met Andrew Verdin and Reid Wilkins, two classmates who were also members of the Christian Veterinary Fellowship club. While the three had talked about practicing together after graduation, Daniel purchased a solo practice near his extended family. Daniel's heavy workload compromised his family life, and he eventually sold that practice, joining Verdin Veterinary Services in September 2012.While Daniel enjoys the challenges of surgery, he has recently become a fan of internal medicine cases. Daniel loves to put on his detective hat, analyzing a patient's puzzling symptoms, and digging deep until he finds their source. When Daniel's not helping clients and pets, he enjoys life with his wife of 17 years and their four talented children. Three of the children have already expressed their desire to become veterinarians, and Daniel's oldest son has been working in the practice's office and kennel. Daniel and his family are also involved in their church and give credit to their Lord Jesus Christ for all of his blessings including the opportunity to be a part of such a wonderful profession. Daniel also coaches his children in football, baseball, and soccer. Whenever possible, the family rejuvenates their spirits by spending a few days at the ocean. Finally, Daniel's family has kept dogs, cats, horses, and an assortment of other pets over the years. Currently, the family cares for two hermit crabs and an Australian shepherd named Aspen, who doesn't believe he's a dog at all. Also, Daniel still has fond memories of his first dog, Bo, a big black Labrador retriever who became Daniel's best friend. Daniel credits Bo with helping to spark his love for animals, which eventually led Daniel to his veterinary career.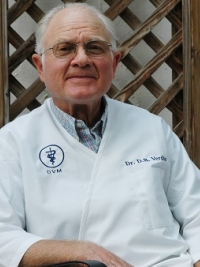 Dr. D.B. Verdin
Former Practice Owner
Dr. Verdin has been able to achieve that rare combination of deep, personal passion and career success. In 1966, he started Verdin Veterinary Services from a desire to dedicate his life to agriculture, a vocation near to his heart since his family had been farmers for generations. Dr. Verdin was also influenced by his strong Christian faith, and desired to use his God-given gifts to help his animal patients and their loving owners. He truly feels that his veterinary work is a form of worship. After many years, Dr. Verdin's successful practice has allowed him the freedom to return to the land he loves!
Born in Greenville County, South Carolina, Dr. Verdin became familiar with farm operations and farm animals while he was growing up. After graduating from high school, he studied pre-vet at Clemson University, and was then accepted to the University of Georgia School of Veterinary Medicine. After Dr. Verdin's graduation from veterinary school, he spent two years in the United States Air Force. Finally returning home to South Carolina, Dr. Verdin hung up his shingle in Simpsonville, South Carolina. Dr. Verdin founded the practice back in 1966 is now fully retired after 46 years of service to the pets and community. While Dr. Verdin has treated thousands of animal patients over the years, a few stand out in his mind. Since he was familiar with farm animal medicine, he found himself operating on a pig that had injured himself. Dr. Verdin resolved the pig's medical problem, and his porcine patient recovered very nicely. The pig's owner expressed his appreciation by bringing Dr. Verdin several packages of delicious sausages. Dr. Verdin delights in spending time with his 4 children and 14 grandchildren. His oldest son operates a feed and seed store, while his oldest daughter has entered the nursing profession. Andrew Verdin has now stepped into the veterinary practice, while Dr. Verdin's youngest daughter enjoys being a mother and homemaker. Dr. Verdin reads as much as possible, especially about Southern history. He also spends time growing vegetables and fruit trees, and produces his own hay as well.Visitors to Dr. Verdin's farm will likely encounter his mule and two donkeys. He also keeps a pair of peafowl, known for their colorful feathers and other-worldly vocalizations. A pair of bantam chickens and 12 goats round out the complement of Verdin farm animals.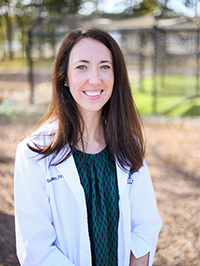 Dr. Sara Cato
Associate Veterinarian
Although she is the daughter of two veterinarians and had grown up exposed to all facets of the veterinary medical profession, Sara originally wanted to blaze her own trail and study other fields during college. That all changed when she started working with her mother during breaks from school—it didn't take long for Sara to realize just how much she enjoyed the challenging yet rewarding world of animal care! Sara is proud to now serve the pets and animal owners of the community as an Associate Veterinarian with Integrity Animal Health Group.
Sara grew up in rural Georgia, where she and her brother spent time with everything from dogs and cats to donkeys, goats, and wildlife while growing up. She attended both undergraduate and veterinary school at the University of Georgia in Athens, then headed to Atlanta to complete a year-long internship at Georgia Veterinary Specialists. Sara Cato then began practicing at a nearby veterinary clinic, where she would remain for three years before relocating to Greenville. Having met several members of the Verdin Veterinary Services (now Integrity Animal Health Group) family during her time in veterinary school, Sara was thrilled to have the opportunity to join the team as the clinic grew. She has special passions for internal medicine, ophthalmology, and animal behavior; Sara's own rambunctious dog, Lulu, has shown her firsthand the true value of behavioral science!
Sara has also taken additional training to become Fear Free certified. The training and certification program helps veterinarians modify their procedures, handling, and facilities to help pets feel safe and comfortable while receiving the medical care they need.
When she's not spending time with her own pups or caring for the pets of Simpsonville here at the clinic, Sara enjoys hiking, swimming, reading, baking, and traveling.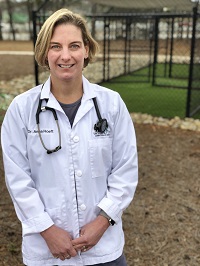 Dr. Anna Hoeft
Associate Veterinarian
Dr. Anna Hoeft joined our Integrity Veterinary team in early Spring 2018. She came to our practice after working in emergency medicine at the Animal Emergency Clinic in Greenville from 2006 to 2017. Having known Dr. Andrew Verdin when he externed at the AEC, she was impressed with the quality of medicine, patient care, and commitment to clients exhibited at Integrity Animal Health.
A native of Greenville, Anna has also lived in Monroe, North Carolina. Her extended family is quite large, although she is an only child. She and her husband Stephen (who works for Michelin) have two children: a twelve year old daughter, Corinne, who loves dance, and a ten year old son, Beckett, whose interests include karate, basketball, soccer, history, and music. Her family wouldn't be complete, however, without her three sweet fur babies. Willie, her eight year old GSP, gives the best hugs; seven year old Lula is passionate about dock diving; and her "teenage" eleven month old Eddie is always getting into some kind of trouble!!
Anna's journey in veterinary medicine began with a BS in Public Health followed by an MS in Clinical Nutrition from NYU in 1996. She worked as a registered dietitian in North and South Carolina before attending TUSVM to fulfill her ultimate goal of focusing on animal care. She wanted to be able to make a real impact on the health of companion animals and promote the human-animal bond!
After graduation from veterinary school, Anna completed an internship in Rochester, NY, and then stayed on as an emergency attending clinician. Her family relocated back to SC due to her husband's job change. In 2006, she began working in emergency medicine, and then later provided relief services to area veterinarians.
Her professional passions are internal medicine and emergency. She loves to be able to successfully stabilize a patient and improve his/her quality of life. Personally, Anna enjoyed long-distance running in the past and now loves Hot Power Yoga and Barre. Of course, she greatly enjoys spending time with her family and friends, as well as music, travel, reading, and even knitting!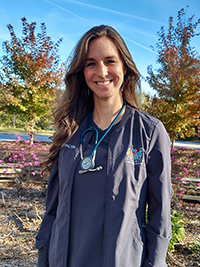 Dr. Kim Hollifield
Associate Veterinarian
Dr. Hollifield joined Integrity as a result of a
mutual friend with Dr. Verdin who placed them in contact with each other. This friend knew she was looking for a job in the Greenville area and that Dr. Verdin was seeking another associate.
From a young age, Kim had always had an interest in animals and was encouraged by the adults in her life to pursue a veterinary career. Throughout college though, she began praying for God's will for her life, and as doors were opened toward the veterinary field, it became clear that truly was the direction in which He was leading her. Her passion for working with people and animals makes her veterinary career a perfect match for her.
One of her first memories of wanting to become a vet was at 5 or 6 years old. Kim's family had a hound dog that brought a badly injured baby bunny to the house. Her mom wrapped it up and placed it in a shoe box. She remembers watching that bunny and just yearning with a desire to save it but feeling helpless in knowing there was nothing she could do. Living on a farm, Kim faced many situations where animals would die for one reason or another, and she would always tell herself in that helpless moment that one day she would know what to do to help these creatures.

Dr. Kim was born in the Ramseur, NC area, but spent most of her early years near Dacusville, SC on a small hobby farm. She enjoyed horseback riding and competing in equine endurance racing throughout high school and college. For a few years in college, she was actively involved in wildlife rehabilitation with a local rehabber and had the privilege of working with and learning about raising a variety of orphaned or injured animals and birds. Kim spent a summer interning at the Greenville Zoo, where her favorite activity was feeding the various animals, especially throwing the Toucans grapes. At Clemson University, she worked at the school hog farm and won a scholarship at the SC State Fair for showing their hogs. Kim also brought home 2 runt piglets from the Clemson hog farm that grew to 700 pound pets for 10 and 12 years.
As her graduation from Clemson neared, Kim began the application process for vet school. SC doesn't have a vet school, so she was forced to go out of state. Thankfully, she was offered 1 of 5 seats at Mississippi State University reserved for SC students and accepted. She enjoyed her years living in MS due to the slow-paced, country environment. After veterinary school, Dr. Kim accepted a position at a mixed animal practice in southwest VA; it was a very busy practice that offered a great deal of excellent experience. Despite enjoying it, Kim decided to get closer to family and transferred to a small animal practice in western NC where her grandparents lived. She remained in that area for the next 7 years until the Lord brought her back to the Greenville area and to Integrity Animal Health Group.
Kim's personal experiences have included competing in 25 and 50 mile endurance horse racing throughout high school and college. She had an Arabian named Justin, her main horse to compete on. He was quite good and thoroughly enjoyed racing. He is retired now, but she still has him, and he remains her favorite horse to ride!